rear hugger ermax for Z 1000 2014/2020

This Ermax rear hugger gives a racing look and adds a color touch to your Z1000. It is available in Kawasaki original colors, in carbon look or in black unpainted. Ermax created also two-coloured versions for this product, still with your motorcycle colors.
This rear fender Z1000 offers a best protection to the rider and the rear shock absorber against water, mud and gravel projections. Its integrated chain guard allows as well to protect you against grease.
delivered with:
fitting kit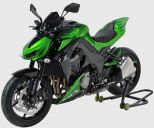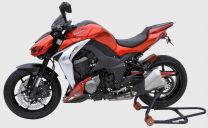 ***Choisissez votre couleur. Soyez attentif à l\'année modèle, les couleurs constructeur pouvant varier d\'une année sur l\'autre.
730321087

- garde boue arriere Ermax pour Z 1000 2014-2018, blanc 2016(pearl stardust white [25Y])

730314087

- garde boue arriere Ermax pour Z 1000 2014-2018, bleu métal 2018(candy surf blue [25V])

730316087

- garde boue arriere Ermax pour Z 1000 2014-2018, rouge métal (sugomi ) 2016(candy crimson red [53R])

730300087

- garde boue arriere Ermax pour Z 1000 2014-2020, brut 2014/2020

7303ZE087

- garde boue arriere Ermax pour Z 1000 2014-2018, gris mat / vert (Z1000 R edition ) 2018(metallic matte carbon gray [51B], vert edition)

7303SB087

- garde boue arriere Ermax pour Z 1000 2014-2018, gris métal/bleu surf 2018(gris pearl storm, candy surf blue [25V])

730388087

- garde boue arriere Ermax pour Z 1000 2014-2018, gris/orange 2015(metallic carbon gray [51A], candy burnt orange [17L])

730370087

- garde boue arriere Ermax pour Z 1000 2014-2018, gris/vert 2014(metallic graphite gray [45W], golden blazed green [40R])

7303K2087

- garde boue arriere Ermax pour Z 1000 2014-2020, gris metal mat 2014/2016 , 2019/2020(matte graphite gray)

7303GS087

- garde boue arriere Ermax pour Z 1000 2014-2020, gris métal storm (Z 1000 R edition ) 2018/2020(gris pearl storm)

730346087

- garde boue arriere Ermax pour Z 1000 2014-2018, gris anthracite 2014, 2017/2018(metallic graphite gray [45W])

730339087

- garde boue arriere Ermax pour Z 1000 2014-2018, gris anthracite fonce 2015(metallic carbon gray [51A])

7303k4087

- garde boue arriere Ermax pour Z 1000 2014-2018, gris mat carbone (Sugomi/Z 1000R edition ) ) 2016, 2018(metallic matte carbon gray [51B])

7303K1087

- garde boue arriere Ermax pour Z 1000 2014-2018, gris mat /rouge metal (sugomi ) 2014/2016(metallic matte carbon gray [51B], candy crimson red [53R])

7303K3087

- garde boue arriere Ermax pour Z 1000 2014-2018, gris mat/vert metal 2016(matte graphite gray, golden blazed green [40R])

730382087

- garde boue arriere Ermax pour Z 1000 2014-2020, look carbone argent 2014/2020

730373087

- garde boue arriere Ermax pour Z 1000 2014-2018, noir mat 2014/2015 , 2017(flat ebony [45L])

730367087

- garde boue arriere Ermax pour Z 1000 2014-2020, noir metal paillete gris 2014/2015 , 2017/2020(metallic spark black [660/15Z ])

730383087

- garde boue arriere Ermax pour Z 1000 2014-2018, noir metal/noir mat 2015(metallic spark black [660/15Z ], metallic flat spark black [739])

7303FG087

- garde boue arriere Ermax pour Z 1000 2014-2020, noir mat/gris mat gr aphite 2019/2020(metallic flat spark black [739], matte graphite gray)

730347087

- garde boue arriere Ermax pour Z 1000 2014-2020, noir mat 2019/2020(metallic flat spark black [739])

7303BL087

- garde boue arriere Ermax pour Z1000 2014-2020, noir satin (série Black Line ) 2014/2020

7303E9087

- garde boue arriere Ermax pour Z1000 2014-2020, noir/gris storm/vert (Z 1000 R edition ) 2019/2020(metallic spark black [660/15Z ], gris pearl storm, vert emerald blazed [60R])

730306087

- garde boue arriere Ermax pour Z 1000 2014-2018, noir/gris/vert (Z 1000 R edition ) 2017(metallic spark black [660/15Z ], metallic graphite gray [45W], candy lime green [35P])

730380087

- garde boue arriere Ermax pour Z 1000 2014-2018, orange nacré 2014/2015 , 2017/2018(candy burnt orange [17L])

730384087

- garde boue arriere Ermax pour Z 1000 2014-2018, orange nacre / noir metal 2014(candy burnt orange [17L], metallic spark black [660/15Z ])

730364087

- garde boue arriere Ermax pour Z 1000 2014-2018, orange nacré /noir 2017(candy burnt orange [17L], flat ebony [45L])

730322087

- garde boue arriere Ermax pour Z 1000 2014-2018, vert métal foncé 2014/2017(golden blazed green [40R])

7303ve087

- garde boue arriere Ermax pour Z 1000 2014-2020, vert emerald 2018/2020(vert emerald blazed)

730375087

- garde boue arriere Ermax pour Z 1000 2014-2018, blanc/vert 2016(pearl stardust white [25Y], golden blazed green [40R])

730310087

- garde boue arriere Ermax pour Z 1000 2014-2018, vert/noir 2015, 2017(golden blazed green [40R], metallic spark black [660/15Z ])