screen aeromax ermax for ZX 10 R 2016/2020
double bubble
Screen ZX10R, proposed in many colors.
Ermax increases performances of your ZX-10R with its Aeromax® 37 cm.
Screen Ninja ZX-10 manufactured in poured PMMA (methacrylate) 3 mm thermoformed.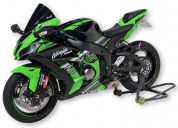 ***Choisissez votre couleur. Soyez attentif à l\'année modèle, les couleurs constructeur pouvant varier d\'une année sur l\'autre.
070301091

- Bulle Aéromax (double galbe) Ermax pour ZX 10 R 2016-2020 clair

070354091

- Bulle Aéromax (double galbe) Ermax pour ZX 10 R 2016-2020 gris

070302091

- Bulle Aéromax (double galbe) Ermax pour ZX 10 R 2016-2020 marron transparent

070303091

- Bulle Aéromax (double galbe) Ermax pour ZX 10 R 2016-2020 noir clair

070356091

- Bulle Aéromax (double galbe) Ermax pour ZX 10 R 2016-2020 noir foncé (opaque)

070347091

- Bulle Aéromax (double galbe) Ermax pour ZX 10 R 2016-2020 noir satin (opaque)

070308091

- Bulle Aéromax (double galbe) Ermax pour ZX 10 R 2016-2020 vert fluo 2