sport screen ermax for Z 1000 2014/2020
27 cm
This Ermax nose screen personalizes your Z 1000 and improves your protection. You can choose one of our various available colors.
Screen Z1000 manufactured in poured PMMA (methacrylate) 3 mm thermoformed, delivered ready to fit with one black silkscreen at the bottom (except on screens colors dark black, light black, and satin).
delivered with:
fitting kit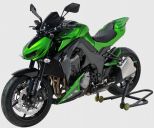 ***Choisissez votre couleur. Soyez attentif à l\'année modèle, les couleurs constructeur pouvant varier d\'une année sur l\'autre.
030304087

- saute vent sport (27 cm) Ermax pour Z 1000 2014-2020 bleu violet

030301087

- saute vent sport (27 cm) Ermax pour Z 1000 2014-2020 clair

030354087

- saute vent sport (27 cm) Ermax pour Z 1000 2014-2020 gris

030383087

- saute vent sport (27 cm) Ermax pour Z 1000 2014-2020 gris satin (opaque)

030302087

- saute vent sport (27 cm) Ermax pour Z 1000 2014-2020 marron transparent

030303087

- saute vent sport (27 cm) Ermax pour Z 1000 2014-2020 noir clair

030356087

- saute vent sport (27 cm) Ermax pour Z 1000 2014-2020 noir foncé (opaque)

030347087

- saute vent sport (27 cm) Ermax pour Z 1000 2014-2020 noir satin (opaque)

030311087

- saute vent sport (27 cm) Ermax pour Z 1000 2014-2020 orange fluo

030306087

- saute vent sport (27 cm) Ermax pour Z 1000 2014-2020 rouge

030308087

- saute vent sport (27 cm) Ermax pour Z 1000 2014-2020 vert fluo 2