belly pan ermax for Z 900 RS 2018/2021
3 parts + top plates latérales aluminium
This Z 900 RS belly pan, with its asymmetric central part and its lateral aluminium plates, is very design and matches perfectly with your bike. This Ermax accessory adorns and protects the lower part of the Kawasaki Z900RS.
Belly pan Z900 RS available painted in stock colours.
delivered with:
fitting kit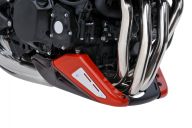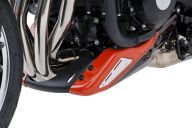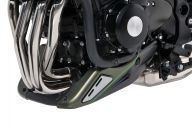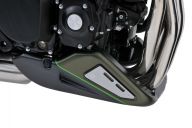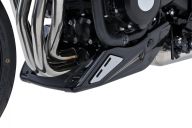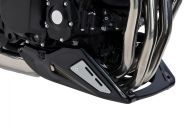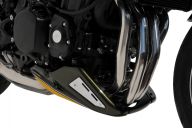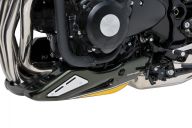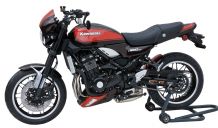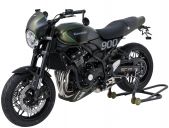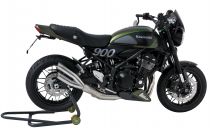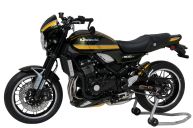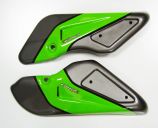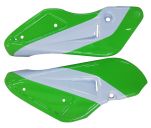 ***Choisissez votre couleur. Soyez attentif à l\'année modèle, les couleurs constructeur pouvant varier d\'une année sur l\'autre.
8903S68-00

- sabot moteur (3 parties + platines latérales alu) Ermax pour Z900 RS 2018-2021, brut 2018/2021

8903S68-LG

- sabot moteur (3 parties + platines latérales alu) Ermax pour Z900 RS 2018-2021, gris graphite/vert /liseret noir 2019(metallic graphite gray [45W], vintage lime green [7F], ebony [H8])

8903S68-46

- sabot moteur (3 parties + platines latérales alu) Ermax pour Z900 RS 2018-2021, gris anthracite 2019/2020(metallic graphite gray [45W])

8903S68-82

- sabot moteur (3 parties + platines latérales alu) Ermax pour Z900 RS 2018-2021, look carbone argent 2018/2021

8903S68-CB

- sabot moteur (3 parties + platines latérales alu) Ermax pour Z900 RS 2018-2020, marron métal 2018/2020(candytone brown)

8903S68-BO

- sabot moteur (3 parties + platines latérales alu) Ermax pour Z900 RS 2018-2020, marron métal/orange métal 2018/2020(candytone brown, candytone orange [60V])
8903S68-73

- sabot moteur (3 parties + platines latérales alu) Ermax pour Z900 RS 2018-2021, noir mat 2018/2020(flat ebony [45L])

8903S68-65

- sabot moteur (3 parties + platines latérales alu) Ermax pour Z 900 RS 2018-2019, noir métal 2018/2019(metallic spark black [660/15Z ])

8903S68-18

- sabot moteur (3 parties + platines latérales alu) Ermax pour Z900 RS 2018-2020, noir brillant 2021(ebony [H8])

8903S68-65E

- sabot moteur (3 parties + platines latérales alu) Ermax pour Z900 RS 2018-2021, noir métal pailleté 2020(metallic diablo black [17K])

8903S68-BL

- sabot moteur (3 parties + platines latérales alu) Ermax pour Z900 RS 2018-2021, noir satin (série black line) 2018/2021

8903S68-T9

- sabot moteur (3 parties + platines latérales alu) Ermax pour Z 900 RS 2018-2019, noir/argent/or 2018/2019(metallic spark black [660/15Z ], argent [*argent], or [*or])

8903S68-CO

- sabot moteur (3 parties + platines latérales alu) Ermax pour Z900 RS 2018-2020, orange métal 2018/2020(candytone orange [60V])

8903S68-KM

- sabot moteur (3 parties + platines latérales alu) Ermax pour Z 900 RS 2018-2019, vert mat 2018/2019(vert metallic mat cover)

8903S68-GE

- sabot moteur (3 parties + platines latérales alu) Ermax pour Z 900 RS 2018-2019, vert mat/noir mat 2018/2019(vert metallic mat cover, flat ebony [45L])

8903S68-CG

- sabot moteur (3 parties + platines latérales alu) Ermax pour Z900 RS 2018-2021, vert new metallic (tricolore ) 2020/2021(vert new metallic/vert candytone)

8903S68-VI

- sabot moteur (3 parties + platines latérales alu) Ermax pour Z900 RS 2018-2021, vert/blanc 2018/2021(vintage lime green [7F], pearl stardust white [25Y])

8903S68-KF

- sabot moteur (3 parties + platines latérales alu) Ermax pour Z900 RS 2018-2021, vert/blanc/noir 2018/2021(vintage lime green [7F], pearl stardust white [25Y], ebony [H8])

8903S68-GF

- sabot moteur (3 parties + platines latérales alu) Ermax pour Z 900 RS 2018-2019, vert/noir/vert fluo 2018/2019(vert metallic mat cover, flat ebony [45L], lime green [777])

8903S68-VL

- sabot moteur (3 parties + platines latérales alu) Ermax pour Z900 RS 2018-2021, vintage vert 2018/2021(vintage lime green [7F])