pare brise mini sportivo ermax for Vespa 125 and 300 GTS 2008/2019
40cm
This Ermax windshield improves your protection and personalizes your Vespa GTS 125/250/300. It is available in different colors, and with design silkscreens to add in option.
Accessory delivered ready to fit, with a finishing seal around the headlight. Manufactured in poured PMMA 3 mm thermoformed.
light large modèle-kit of fixing black
delivered with:
fitting kit black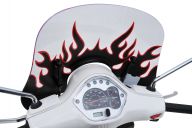 ***Choisissez votre couleur. Soyez attentif à l\'année modèle, les couleurs constructeur pouvant varier d\'une année sur l\'autre.
MS1301GMS

- Pare brise mini Sportivo (40cm) Ermax pour GTS 125 et 300 2008-2019 clair

MS1354GMS

- Pare brise mini Sportivo (40cm) Ermax pour GTS 125 et 300 2008-2019 gris

MS1383GMS

- Pare brise mini Sportivo (40cm) Ermax pour GTS 125 et 300 2008-2019 gris satin

MS1302GMS

- Pare brise mini Sportivo (40cm) Ermax pour GTS 125 et 300 2008-2019 marron transparent

MS1303GMS

- Pare brise mini Sportivo (40cm) Ermax pour GTS 125 et 300 2008-2019 noir clair

MS1356GMS

- Pare brise mini Sportivo (40cm) Ermax pour GTS 125 et 300 2008-2019 noir foncé

MS1347GMS

- Pare brise mini Sportivo (40cm) Ermax pour GTS 125 et 300 2008-2019 noir satin