rear hugger ermax for MT 03 2016/2019

Customize your bike with this rear fender MT03, proposed in black unpainted, carbon look and painted.
This rear hugger MT-03 is delivered ready to fit : it is mounted on the original fixing points.
This tuning accessory offers also a best protection to the rider and the rear shock absorber against water, mud and gravel projections. Its integrated chain guard protects too you against grease.
delivered with:
fitting kit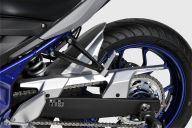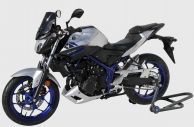 ***Choisissez votre couleur. Soyez attentif à l\'année modèle, les couleurs constructeur pouvant varier d\'une année sur l\'autre.
730253129

- garde boue arriere Ermax pour MT 03 2016-2017, bleu satin 2016(race blu)

730214129

- garde boue arriere Ermax pour MT 03 2016-2019, bleu métal 2018/2019(deep purplish blue metallic/yamaha blue [DPBMC])

730200129

- garde boue arriere Ermax pour MT 03 2016-2019, brut 2016/2019

730255129

- garde boue arriere Ermax pour MT 03 2016-2017, gris mat clair 2016(matt silver 1 [MS1])

730272129

- garde boue arriere Ermax pour MT 03 2016-2017, gris mat clair/bleu 2016(matt silver 1 [MS1], race blu)

7302GJ129

- garde boue arriere Ermax pour MT 03 2016-2018, gris mat/jaune fluo 2018(mat gray metallic 3 [MNM3], night fluo satin)

730294129

- garde boue arriere Ermax pour MT 03 2016-2018, gris mat 2018(mat gray metallic 3 [MNM3])

7302FI129

- garde boue arriere Ermax pour MT 03 2016-2019, ice fluo 2019(mat light gray metallic 4 [MLNM], vived yellowish red solid 6 [VYRS6])

7302YS129

- garde boue arriere Ermax pour MT 03 2016-2018, jaune fluo satin 2018(night fluo satin)

730282129

- garde boue arriere Ermax pour MT 03 2016-2019, look carbone argent 2016/2019

730218129

- garde boue arriere Ermax pour MT 03 2016-2019, noir brillant 2018/2019(midnight black / black metallic 2 [BL2])

730247129

- garde boue arriere Ermax pour MT 03 2016-2019, noir satin 2016/2017(blackmax)

7302BL129

- garde boue arriere Ermax pour MT03 2016-2019, noir satin (série black line) 2016/2019