belly pan ermax 3 parts for mt10 2016/2021
3 parts
Belly pan MT-10 / belly pan FZ-10, delivered with nettings to stick in option.
Very nice tuning accessory, with air intakes for a best engine ventilation.
delivered with:
fitting kit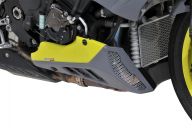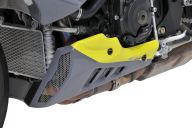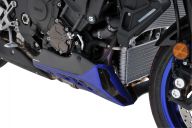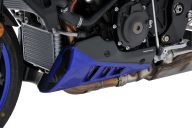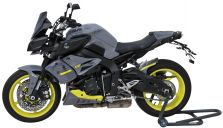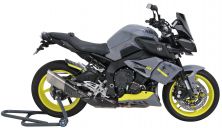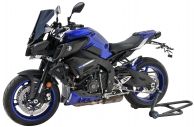 ***choisissez votre couleur. soyez attentif à l'année du modèle, les couleurs constructeur pouvant varier d'une année sur l'autre.
890214132

- sabot moteur (3 parties) Ermax pour MT 10/FZ 10 2016-2019, bleu métal 2016/2019(deep purplish blue metallic/yamaha blue [DPBMC])

890200132

- sabot moteur (3 parties) Ermax pour MT10/FZ 10 2016-2020, brut 2016/2020

890296132

- sabot moteur (3 parties) Ermax pour MT 10/FZ 10 2016-2019, bleu métal /gris anthracite 2017/2019(deep purplish blue metallic/yamaha blue [DPBMC], blackmax)

890255132

- sabot moteur (3 parties) Ermax pour MT 10/FZ 10 2016-2018, gris mat clair 2016/2018(matt silver 1 [MS1])

8902GI132

- sabot moteur (3 parties) Ermax pour MT 10/FZ 10 2016-2019, gris mat clair 2019(mat light gray metallic 4 [MLNM])

8902GJ132

- sabot moteur (3 parties) Ermax pour MT 10/FZ 10 2016-2018, gris mat/jaune fluo 2018(mat gray metallic 3 [MNM3], night fluo satin)

890294132

- sabot moteur (3 parties) Ermax pour MT 10/FZ 10 2016-2018, gris mat 2018(mat gray metallic 3 [MNM3])

8902Y2132

- sabot moteur (3 parties) Ermax pour MT 10/FZ 10 2016-2018, gris/jaune 2016/2017(nimbus grey/jaune fluo, night fluo [BNS4])

890246132

- sabot moteur (3 parties) Ermax pour MT10/FZ 10 2016-2021, gris anthracite 2016/2017(nimbus grey)

8902FI132

- sabot moteur (3 parties) Ermax pour MT10/FZ 10 2016-2020, ice fluo 2019/2020(mat light gray metallic 4 [MLNM], vived yellowish red solid 6 [VYRS6])

8902IB132

- sabot moteur (3 parties) Ermax pour MT10/FZ 10 2016-2020, icon blue 2020(icon blue)

8902Y1132

- sabot moteur (3 parties) Ermax pour MT 10/FZ 10 2016-2018, jaune fluo 2016/2017(night fluo [BNS4])

890282132

- sabot moteur (3 parties) Ermax pour MT10/FZ 10 2016-2020, look carbone argent 2016/2020

890258132

- sabot moteur (3 parties) Ermax pour MT10/FZ 10 2016-2020, noir satin 2016/2020(tech black [MDNM6])

890218132

- sabot moteur (3 parties) Ermax pour MT 10/FZ 10 2016-2019, noir (modèle SP ) 2017/2019(midnight black [smx])

8902BL132

- sabot moteur (3 parties) Ermax pour MT10/FZ 10 2016-2020, noir satin (série Black Line ) 2016/2020