hugger ar 2 parts ermax for TMAX DX/SX 2017-2019
with engine cover belt en aluminum anodized
Ermax offers this racing accessory for TMax DX/SX, which mitigates the rear of the scooter and brings colour.
The rear hugger TMax is in ABS and is available painted in Yamaha original colours. The belt cover is in black anodized aluminium 3 mm of thickness.
Both parts have to be sold together.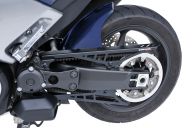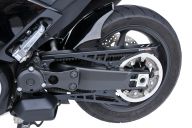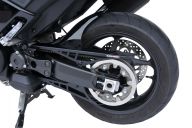 ***Choisissez votre couleur. Soyez attentif à l\'année modèle, les couleurs constructeur pouvant varier d\'une année sur l\'autre.
7302T23-PB

- garde boue arriere (avec carter courroie en aluminium anodisé) Ermax pour T MAX DX/SX 2017-2019, bleu mat 2017/2019(phantom blue)

7302T23-00

- garde boue arriere (avec carter courroie en aluminium anodisé) Ermax pour T MAX DX/SX 2017-2019, brut 2017/2019

7302T23-SG

- garde boue arriere (avec carter courroie en aluminium anodisé) Ermax pour TMAX DX/SX 2017-2019, gris foncé 2019(sword grey)

7302T23-MS

- garde boue arriere (avec carter courroie en aluminium anodisé) Ermax pour T MAX DX/SX 2017-2019, gris mat 2017/2019(matt silver)

7302T23-CA

- garde boue arriere (avec carter courroie en aluminium anodisé) Ermax pour T MAX DX/SX 2017-2019, gris mat clair 2019(ceramic ice [MLNM])

7302T23-82

- garde boue arriere (avec carter courroie en aluminium anodisé) Ermax pour T MAX DX/SX 2017-2019, look carbone argent 2017/2019

7302T23-18

- garde boue arriere (avec carter courroie en aluminium anodisé) Ermax pour T MAX DX/SX 2017-2019, noir brillant 2017/2019(midnight black/black metallic x [smx])

7302T23-58

- garde boue arriere (avec carter courroie en aluminium anodisé) Ermax pour T MAX DX/SX 2017-2019, noir 2017/2019(liquid darkness / iron max)

7302T23-BL

- garde boue arriere (avec carter courroie en aluminium anodisé) Ermax pour TMAX DX/SX 2017-2019, noir satin (série Black Line ) 2017/2019