sport screen ermax for VERSYS 650 2015/2021
35 cm
Sport Ermax screen adaptable on the Versys 650.
This screen is adjustable as the original one. You can personalize it by choosing one color and one silkscreen in option.
Accessory manufactured in poured PMMA (methacrylate) 3 mm thermoformed, delivered ready to fit.
delivered with:
fitting kit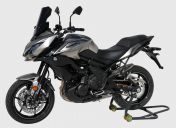 ***Choisissez votre couleur. Soyez attentif à l\'année modèle, les couleurs constructeur pouvant varier d\'une année sur l\'autre.
030301089

- Bulle sport (35 cm) Ermax pour VERSYS 650 2015-2021 clair

030354089

- Bulle sport (35 cm) Ermax pour VERSYS 650 2015-2021 gris

030383089

- Bulle sport (35 cm) Ermax pour VERSYS 650 2015-2021 gris satin (opaque)

030307089

- Bulle sport (35 cm) Ermax pour VERSYS 650 2015-2021 jaune fluo

030302089

- Bulle sport (35 cm) Ermax pour VERSYS 650 2015-2021 marron transparent

030303089

- Bulle sport (35 cm) Ermax pour VERSYS 650 2015-2021 noir clair

030356089

- Bulle sport (35 cm) Ermax pour VERSYS 650 2015-2021 noir foncé (opaque)

030347089

- Bulle sport (35 cm) Ermax pour VERSYS 650 2015-2021 noir satin (opaque)