hugger arriere ermax for mt09/fz 9 2017/2020
with chain guard
This rear fender MT-09 / FZ-09 gives a racing look and adds color to your Yamaha. It is available painted in stock colors, in 1 or 2 colors, in carbon look or in black unpainted.
This mud guard MT09 / FZ9 in 2 parts offers a best protection to the rider and the rear shock absorber against water, mud and gravel projections. Its chain guard allows as well to protect you against grease.
delivered with:
fitting kit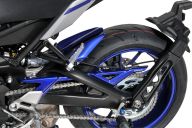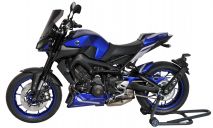 ***Choisissez votre couleur. Soyez attentif à l\'année modèle, les couleurs constructeur pouvant varier d\'une année sur l\'autre.
7302Y22-55

- garde boue arriere (avec cache chaine) Ermax pour MT 09(FZ 9) 2017-2018, blanc mat 2017/2018(matt metallic 4 white (USA moto Matt silver) [MWM4])

7302Y22-14

- garde boue arriere (avec cache chaine) Ermax pour MT 09(FZ 9) 2017-2019, bleu métal 2017/2019(deep purplish blue metallic/yamaha blue [DPBMC])

7302Y22-bn

- garde boue arriere (avec cache chaine) Ermax pour MT 09(FZ 9) 2017-2019, bleu metal/noir brillant 2017/2019(deep purplish blue metallic/yamaha blue [DPBMC], black)

7302Y22-00

- garde boue arriere (avec cache chaine) Ermax pour MT09(FZ 9) 2017-2020, brut 2017/2020

7302Y22-GI

- garde boue arriere (avec cache chaine) Ermax pour MT09(FZ 9) 2017-2020, gris mat clair 2019/2020(mat light gray metallic 4 [MLNM])

7302Y22-GJ

- garde boue arriere (avec cache chaine) Ermax pour MT 09(FZ 9) 2017-2018, gris mat /jaune fluo satin 2018(mat gray metallic 3 [MNM3], night fluo satin)

7302Y22-94

- garde boue arriere (avec cache chaine) Ermax pour MT 09(FZ 9) 2017-2018, gris mat 2018(mat gray metallic 3 [MNM3])

7302Y22-Y2

- garde boue arriere (avec cache chaine) Ermax pour MT 09(FZ 9) 2017-2018, gris/jaune 2017(nimbus grey, night fluo [BNS4])

7302Y22-46

- garde boue arriere (avec cache chaine) Ermax pour MT 09(FZ 9) 2017-2018, gris anthracite 2017(nimbus grey)

7302Y22-FI

- garde boue arriere (avec cache chaine) Ermax pour MT09(FZ 9) 2017-2020, ice fluo 2019/2020(mat light gray metallic 4 [MLNM], vived yellowish red solid 6 [VYRS6])

7302Y22-IB

- garde boue arriere (avec cache chaine) Ermax pour MT09(FZ 9) 2017-2020, icon blue 2020(deep purplish blue metallic/yamaha blue [DPBMC])

7302Y22-Y1

- garde boue arriere (avec cache chaine) Ermax pour MT 09(FZ 9) 2017-2018, jaune fluo 2017(night fluo [BNS4])

7302Y22-YS

- garde boue arriere (avec cache chaine) Ermax pour MT 09(FZ 9) 2017-2018, jaune fluo satin 2018(night fluo satin)

7302Y22-82

- garde boue arriere (avec cache chaine) Ermax pour MT09(FZ 9) 2017-2020, look carbone argent 2017/2020

7302Y22-58

- garde boue arriere (avec cache chaine) Ermax pour MT 09(FZ 9) 2017-2019, noir mat 2017/2019(liquid darkness / iron max)

7302Y22-18

- garde boue arriere (avec cache chaine) Ermax pour MT 09(FZ 9) 2017-2019, noir (modéle SP ) 2018/2019(midnight black / black metallic 2 [BL2])

7302Y22-NO

- garde boue arriere (avec cache chaine) Ermax pour MT09(FZ 9) 2017-2020, noir satin 2017/2020(tech black [MDNM6])

7302Y22-BL

- garde boue arriere (avec cache chaine) Ermax pour MT09(FZ 9) 2017-2020, noir satin (série Black Line ) 2017/2020

7302Y22-19

- garde boue arriere (avec cache chaine) Ermax pour MT09(FZ 9) 2017-2020, rouge 2018/2020(vivid red cocktail 1/racing red/ [VRC1])

7302Y22-15

- garde boue arriere (avec cache chaine) Ermax pour MT09(FZ 9) 2017-2020, rouge métal 2018/2020(lava red/rapid red [DRMK])