screen Aéromax TO ermax for YZF R6 2017/2020

This screen YZF-R6 with double shape and front air intakes will give a sportier look to your Yamaha.
The double shape technique has been created and tested with the best riders, and offers a reduction of turbulences.
R6 screen delivered with one black silkscreen at the bottom (except on screens colors dark black, light black and satin). Choose your accessory's colour.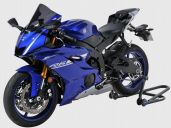 ***Choisissez votre couleur. Soyez attentif à l\'année modèle, les couleurs constructeur pouvant varier d\'une année sur l\'autre.
0702Y80-81

- Bulle Aéromax taille origine Ermax pour YZF R6 2017-2020 bleu satin (opaque)

0702Y80-04

- Bulle Aéromax taille origine Ermax pour YZF R6 2017-2020 bleu violet

0702Y80-01

- Bulle Aéromax taille origine Ermax pour YZF R6 2017-2020 clair

0702Y80-54

- Bulle Aéromax taille origine Ermax pour YZF R6 2017-2020 gris

0702Y80-83

- Bulle Aéromax taille origine Ermax pour YZF R6 2017-2020 gris satin (opaque)

0702Y80-02

- Bulle Aéromax taille origine Ermax pour YZF R6 2017-2020 marron transparent

0702Y80-03

- Bulle Aéromax taille origine Ermax pour YZF R6 2017-2020 noir clair

0702Y80-56

- Bulle Aéromax taille origine Ermax pour YZF R6 2017-2020 noir foncé (opaque)

0702Y80-47

- Bulle Aéromax taille origine Ermax pour YZF R6 2017-2020 noir satin (opaque)