screen Aéromax ermax for YZF R3 2015/2018

This double shape Ermax screen will give a racing look to your YZFR3. It offers to you a better top speed (on circuit) and a reduction of turbulences. You can personalize it thanks to the various available colors and silkscreens.
The double shape technique has been created and tested with the best riders. This specific product has been many times world champion in Grand Prix and in Endurance world Championship.
YZF-R3 screen 34 cm, manufactured in poured PMMA (methacrylate) 3 mm thermoformed.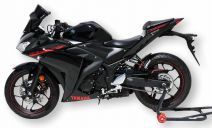 ***Choisissez votre couleur. Soyez attentif à l\'année modèle, les couleurs constructeur pouvant varier d\'une année sur l\'autre.
070281127

- Bulle Aéromax taille origine Ermax pour YZF R3 2015-2018 bleu satin (opaque)

070204127

- Bulle Aéromax taille origine Ermax pour YZF R3 2015-2018 bleu violet

070201127

- Bulle Aéromax taille origine Ermax pour YZF R3 2015-2018 clair

070254127

- Bulle Aéromax taille origine Ermax pour YZF R3 2015-2018 gris

070283127

- Bulle Aéromax taille origine Ermax pour YZF R3 2015-2018 gris satin (opaque)

070202127

- Bulle Aéromax taille origine Ermax pour YZF R3 2015-2018 marron transparent

070203127

- Bulle Aéromax taille origine Ermax pour YZF R3 2015-2018 noir clair

070256127

- Bulle Aéromax taille origine Ermax pour YZF R3 2015-2018 noir foncé (opaque)

070247127

- Bulle Aéromax taille origine Ermax pour YZF R3 2015-2018 noir satin (opaque)