touring screen ermax for XADV 2017/2020
45cm
This adjustable X-ADV screen with air intakes allows you to personalize your scooter Honda and it improves your protection.
delivered with:
4 inserts Ø5 - 4 screw black 5x20 - 4 washers plastic Ø5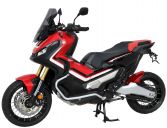 ***Choisissez votre couleur. Soyez attentif à l\'année modèle, les couleurs constructeur pouvant varier d\'une année sur l\'autre.
TO01S86-01

- Bulle touring (45cm) Ermax pour XADV 2017-2020 clair

TO01S86-54

- Bulle touring (45cm) Ermax pour XADV 2017-2020 gris

TO01S86-02

- Bulle touring (45cm) Ermax pour XADV 2017-2020 marron transparent

TO01S86-03

- Bulle touring (45cm) Ermax pour XADV 2017-2020 noir clair

TO01S86-56

- Bulle touring (45cm) Ermax pour XADV 2017-2020 noir foncé (opaque)

TO01S86-47

- Bulle touring (45cm) Ermax pour XADV 2017-2020 noir satin (opaque)

TO01S86-06

- Bulle touring (45cm) Ermax pour XADV 2017-2020 rouge