seat cowl ermax for cb1000 R 2008/2017

This Ermax accessory embellishes and personalizes your CB 1000 R by covering the passenger saddle. Absolute tuning accessory. Its very easy mounting allows to you to alternate at will between solo motorcycle or duets ride.
This seat cowl CB1000R is available in Honda original colors or in black unpainted. Ermax also created two-colored versions for this product, still with your motorcycle colors.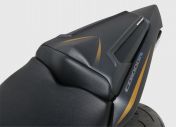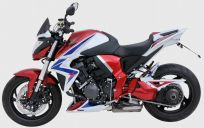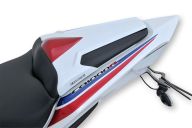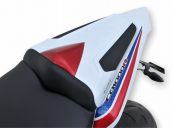 ***Choisissez votre couleur. Soyez attentif à l\'année modèle, les couleurs constructeur pouvant varier d\'une année sur l\'autre.
850112103

- Capot de selle Ermax pour CB 1000 R de 2008 à 2017, blanc nacré 2008/2017 (pearl cool white [NHA16])

850155103

- CAPOT DE SELLE ERMAX POUR CB 1000 R 2013/2016 BLANC MAT (nhb44/matt pearl cool white)

8501H1103

- CAPOT DE SELLE ERMAX POUR CB 1000 R 2014/2016 BLANC MAT/OR

850145103

- Capot de selle Ermax pour CB 1000 R 2008-2017, blanc/noir 2015/2017(black [NH1], pearl cool white [NHA16])

850128103

- Capot de selle Ermax pour CB 1000 R 2008-2017, blanc/rouge metal 2011/2017(pearl cool white [NHA16], pearl siena red [R320])

850116103

- Capot de selle Ermax pour CB 1000 R de 2008 à 2017, bordeaux métal 2010/2017 (pearl siena red [R320])

850100103

- Capot de selle Ermax pour CB 1000 R 2008-2017, brut 2008/2017

850146103

- CAPOT DE SELLE ERMAX POUR CB 1000 R 2008/2009 GRIS ANTHRACITE (sword silver metal/nha95)

850157103

- CAPOT DE SELLE ERMAX POUR CB 1000 R 2012/2014 GRIS MAT (mat cynos gray metallic/nh312f)

850154103

- CAPOT DE SELLE ERMAX POUR CB 1000 R 2012/2014 GRIS MAT (mat cynos gray metallic/nh312f)/OR

850182103

- Capot de selle Ermax pour CB1000 R 2008-2017, look carbone argent 2008/2017

850168103

- CAPOT DE SELLE ERMAX POUR CB 1000 R 2008/2011 NOIR METAL (pearl night star/nha84)

850118103

- Capot de selle Ermax pour CB 1000 R de 2008 à 2017, noir brillant 2015/2017 (black [NH1])

8501BL103

- Capot de selle Ermax pour CB1000 R 2008-2017, noir satin (série Black Line ) 2008/2017

850119103

- Capot de selle Ermax pour CB 1000 R de 2008 à 2017, rouge 2015/2017 (hyper red [R348])

850101103

- Capot de selle Ermax pour CB 1000 R 2008-2017, rouge/noir 2015/2017(hyper red [R348], )

850124103

- CAPOT DE SELLE ERMAX POUR CB 1000 R 2008/2009 VERT METAL (dragon green metal/gy139)