hugger arriere ermax for cb1000 R 2018/2020
+ engine cover of chain en aluminum anodized
This essential equipment will protect you in case of splashing and it will strengthen your protection. This rear hugger CB1000R will add cachet to your vehicle. To adapt to your bike, you have a choice of colors. You can choose between several colors to adapt it to your bike.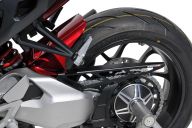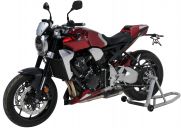 ***Choisissez votre couleur. Soyez attentif à l\'année modèle, les couleurs constructeur pouvant varier d\'une année sur l\'autre.
7301S93-00

- garde boue arriere (+ carter de chaine en aluminium anodisé) Ermax pour CB1000 R 2018-2020, brut 2018/2020

7301S93-G2

- garde boue arriere (+ carter de chaine en aluminium anodisé) Ermax pour CB1000 R 2018-2020, gris bullet/noir mat 2018/2020(mat bullet silver [NH389], mat gunpowder black metallic [NH436M])

7301S93-94

- garde boue arriere (+ carter de chaine en aluminium anodisé) Ermax pour CB1000 R 2018-2020, gris mat bullet/gris mat 2018/2020(matt bullet silver [NH389M])

7301S93-46

- garde boue arriere (+ carter de chaine en aluminium anodisé) Ermax pour CB1000 R 2018-2020, gris anthracite 2019/2020(sword silver metallic [NHA95M])

7301S93-82

- garde boue arriere (+ carter de chaine en aluminium anodisé) Ermax pour CB1000 R 2018-2020, look carbone argent 2018/2020

7301S93-65

- garde boue arriere (+ carter de chaine en aluminium anodisé) Ermax pour CB1000 R 2018-2020, noir metal 2018/2020(graphite black [NHB01EB])

7301S93-NG

- garde boue arriere (+ carter de chaine en aluminium anodisé) Ermax pour CB1000 R 2018-2020, noir métal/gris métal 2018/2020(graphite black [NHB01BA], digital silver metallic [NHA30])

7301S93-BL

- garde boue arriere (+ carter de chaine en aluminium anodisé) Ermax pour CB1000 R 2018-2020, noir satin (série Black Line) 2018/2020

7301S93-H6

- garde boue arriere (+ carter de chaine en aluminium anodisé) Ermax pour CB1000 R 2018-2020, rouge metal 2018/2020(candy chromosphere red [R 381])

7301S93-R3

- garde boue arriere (+ carter de chaine en aluminium anodisé) Ermax pour CB1000 R 2018-2020, rouge métal/noir mat 2018/2020(candy chromosphere red [R 381], mat gunpowder black metallic [NH436M])