rear hugger ermax for CB 1000 R 2008/2017

Ermax gives a racing look and adds a color touch to your bike with its rear hugger CB1000R. It is available in Honda original colors, in carbon look or in black unpainted. Ermax created also two-colored versions and one three-colored model for this product, still with your motorcycle colors.
This mud guard CB 1000 R offers a best protection to the rider and the rear shock absorber against water, mud and gravel projections. Its integrated chain guard allows as well to protect you against grease.
delivered with:
fitting kit
netting en aluminum à stick en option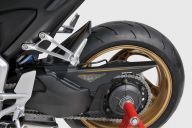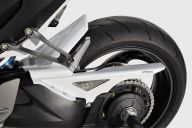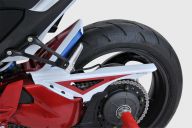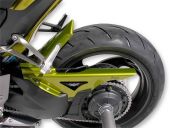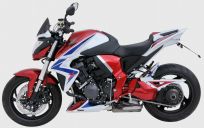 ***Choisissez votre couleur. Soyez attentif à l\'année modèle, les couleurs constructeur pouvant varier d\'une année sur l\'autre.
730112103

- garde boue arriere Ermax pour CB 1000 R de 2008 à 2017, blanc nacré 2008/2017 (pearl cool white [NHA16])

730155103

- garde boue arriere Ermax pour CB 1000 R 2008-2017, blanc mat 2013/2016(matt pearl cool white [NHB44])

7301H1103

- garde boue arriere Ermax pour CB 1000 R 2008-2017, blanc mat /or 2014/2016(matt pearl cool white [NHB44], )

730145103

- garde boue arriere Ermax pour CB 1000 R 2008-2017, blanc/noir 2015/2017(black [NH1], pearl cool white [NHA16])

730128103

- garde boue arriere Ermax pour CB 1000 R 2008-2017, blanc/rouge metal 2011/2017(pearl cool white [NHA16], pearl siena red [R320])

730116103

- garde boue arriere Ermax pour CB 1000 R 2008-2017, bordeaux métal 2010/2017(pearl siena red [R320])

730100103

- garde boue arriere Ermax pour CB 1000 R 2008-2017, brut 2008/2017

730146103

- garde boue arriere Ermax pour CB 1000 R 2008-2017, gris anthracite 2008/2009(sword silver metallic [NHA95])

730157103

- garde boue arriere Ermax pour CB 1000 R 2008-2017, gris titanium 2012/2014(matt cynos gray metallic [NH312])

730154103

- garde boue arriere Ermax pour CB 1000 R 2008-2017, gris mat/or 2012/2014(matt cynos gray metallic [NH312], )

730182103

- garde boue arriere Ermax pour CB 1000 R 2008-2017, look carbone argent 2008/2017

730168103

- garde boue arriere Ermax pour CB 1000 R 2008-2017, noir métal 2008/2011(pearl nightstar black [NHA84])

730118103

- garde boue arriere Ermax pour CB 1000 R 2008-2017, noir brillant 2015/2017(graphite black [NHB01BA])

7301BL103

- garde boue arriere Ermax pour CB 1000 R 2008-2017, noir satin (série black line) 2008/2017

730119103

- garde boue arriere Ermax pour CB 1000 R 2008-2017, rouge 2015/2016(hyper red [R348])

730101103

- garde boue arriere Ermax pour CB 1000 R 2008-2017, rouge/noir 2015/2016(hyper red [R348], )

730177103

- garde boue arriere Ermax pour CB 1000 R 2008-2017, tricolore 2013/2017(pearl cool white [NHA16P], pearl siena red [R320X], pearl pacific blue [PB386P])

730124103

- garde boue arriere Ermax pour CB 1000 R 2008-2017, vert nacré 2008/2009(dragon green metal [GY139M])