sport screen ermax for MT 07(fz 7 ) 2018/2020
26 cm
Ermax proposes you this MT-07 nose screen for your Yamaha personalization, thanks to various available colours and silkscreens. This MT07 screen will also improve your protection.
MT07 accessory delivered ready to be fitted with a complete kit.
delivered with:
fitting kit
fixing en aluminum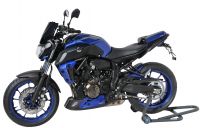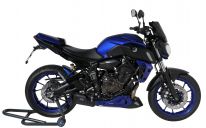 ***Choisissez votre couleur. Soyez attentif à l\'année modèle, les couleurs constructeur pouvant varier d\'une année sur l\'autre.
0302Y84-81

- saute vent sport (26 cm) Ermax pour MT07(FZ 7) 2018-2020 bleu satin (opaque)

0302Y84-04

- saute vent sport (26 cm) Ermax pour MT07(FZ 7) 2018-2020 bleu violet

0302Y84-01

- saute vent sport (26 cm) Ermax pour MT07(FZ 7) 2018-2020 clair

0302Y84-54

- saute vent sport (26 cm) Ermax pour MT07(FZ 7) 2018-2020 gris

0302Y84-83

- saute vent sport (26 cm) Ermax pour MT07(FZ 7) 2018-2020 gris satin (opaque)

0302Y84-07

- saute vent sport (26 cm) Ermax pour MT07(FZ 7) 2018-2020 jaune fluo

0302Y84-02

- saute vent sport (26 cm) Ermax pour MT07(FZ 7) 2018-2020 marron transparent

0302Y84-03

- saute vent sport (26 cm) Ermax pour MT07(FZ 7) 2018-2020 noir clair

0302Y84-56

- saute vent sport (26 cm) Ermax pour MT07(FZ 7) 2018-2020 noir foncé (opaque)

0302Y84-47

- saute vent sport (26 cm) Ermax pour MT07(FZ 7) 2018-2020 noir satin (opaque)

0302Y84-06

- saute vent sport (26 cm) Ermax pour MT07(FZ 7) 2018-2020 rouge